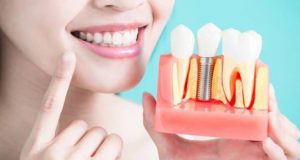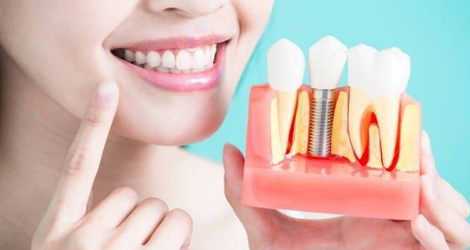 Tooth decay is a serious health issue if not treated on time, one can lose a tooth. On the other side, many people suffer from self-consciousness because of their naturally crooked and stained teeth caused by coffee, sugar, and cigarettes. So what are your options for replacing this missing tooth or naturally crooked or tooth implants?
The best Options for replacing your missing tooth are:
Dental implants
2. Implant-supported bridge
3. Tooth-supported bridge
4. Removable partial dentures
5. Flipper.
To better understand these options if you're battling any of these issues in your mouth, you may want to learn more about Canadian dentistry and Canadian dental implant services. Many Canadians, on the other hand, have no idea what tooth implants services are or how much they cost, so they opt to risk infection to leave their natural tooth in place – either because they can't afford them or because they're afraid of what the treatment entails. The issue regarding tooth implant costs in Canada is that the treatment is not covered by many insurance plans.
Continue reading this blog and allow us to explain the formal and financial facts about the procedure and how much a tooth implant costs in Canada and your specific dental needs.
What are Dental Implants?
Dental implants are an excellent way to replace missing teeth. They are a long-term and affordable solution for many people who have lost their teeth. A dental implant service requires a small titanium post that is surgically placed into the jawbone. The post is designed to provide support for replacement teeth, which can be either artificial or natural. Dental implants are considered the gold standard for tooth replacement because they last much longer than other options, such as dentures or bridges, and do not require additional procedures in the future. Dental Implants can be used to replace one tooth or multiple missing teeth. The number of implants needed will depend on the severity of your dental problems and how many teeth you need to be replaced.
What does the Tooth implant Cost in Canada?
Dental implants are a popular way to replace missing teeth, but the cost can be intimidating. The average price for dental implants is $5,000, but it can vary depending on the type of dental implant services you have opted for, like a single implant or full mouth reconstruction but typically ranges from $2,900 to $20,000+. The cost also depends on how many implants are needed. For example, one implant can range from $2,900 to $3,500 while multiple implants can range up to $20,000+. The tooth implant costs range from about $2,000 for a simple extraction up to around $8-10 thousand for an extensive surgery like reconstructing facial bones
These ranges depend on factors like:
Type of dental implant services
The professional who performs the surgery
Location of surgery
Implant material
Dental insurance or health plans
What Are The Factors Influencing The Tooth Implant Cost in Canada?
Components of a Dental Implant
A titanium "root" and a ceramic "crown" are the most typical components of dental implant services. This is connected via a little metal screw which is part of the crown in some models too. Metal allergies and sensitivities sometimes demand the use of special materials. This can impact tooth implant costs in Canada. A ceramic dental implant is the most frequent titanium substitute.
Total Number of Dental Implants Services
Each patient will have a different amount of dental implant service needed to complete the restoration, and this is one of the biggest cost issues. Dentures, full-arch restorations, and fixed bridges are popular tooth replacement options for patients who are missing several or all of their teeth.
Bone Grafting
There is a greater risk of bone loss in the jaws of patients who have been without teeth for a year or more without replacing them. Bone density is required before implants may be inserted into a patient's body. Adding bone grafting to dental implant services increases the tooth implant cost.
What is the best way to fund my dental implant services in Canada?
Managing the tooth implant cost in Canada is not a cakewalk for everybody. The high cost can be daunting. But, there are ways to pay for dental implant services that don't involve waiting until you have a perfect credit score or a big inheritance. With dental financing and loans, you can pay for your new teeth in monthly installments and the cost is comparable to other forms of dental treatment. Few dental insurance Plan also covers the surgeries up to a certain limit.
What is the reason for dental implant services not being covered by many insurances?
The two most common reasons give
n by insurance companies for refusing to pay tooth implant costs are that they are still considered experimental treatments and that they are most typically classified as "cosmetic procedures." Dentures and dental implants have only been in use for half a century, but the great results obtained by hundreds and thousands of thousands of patients around the world demonstrate that they are a safe and successful option for replacing missing teeth.
When it comes to aesthetics, dental implant services may be far more advantageous to persons who have sensitive gums than tradition
al dentures ever could be for them. Dental treatments, in contrast to other cosmetic procedures, are concerned with functionality as well as looks. They are not only intended to improve your self-confidence, but also to assist you in performing fundamental daily functions such as eating and speaking.
In Conclusion:
are the most cost-effective and long-term solution for missing teeth. . In the long run, your teeth will shift and the forces on your remaining teeth will rise. This is a more serious problem. In the long run, this could lead to even more tooth loss. You can quickly lose all of your teeth and end up needing dentures. Tooth loss can also contribute to bone loss, making dental implant service options more complex and expensive. Having a lost tooth can cause you to lose your self-confidence and avoid smiling, therefore it's important to keep this in mind. At Afflux dentistry, we offer dental implant services at an affordable cost without any overheads. Plus, we'll give you a free consultation so you know what your options are. Visit us now and know more about the appropriate tooth implant costs as per your treatments.