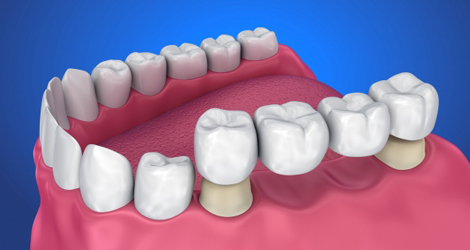 When it comes to safe and long lasting restoration procedures, dental crowns and bridges are right treatment options to opt for. They not only mask imperfections but gives you a beautiful smile that looks natural. At afflux dentistry, our family dentists are here to assist patients who want to fill the gap caused by missing or broken tooth. We craft crowns and bridges that perfectly fit on your jawline and hides the gap.
What To Know About Dental Crowns?
Crown, also referred to as a cap, is a restoration procedure which involves cementing a cap onto a damaged or fractured tooth permanently. It is done to restore it the contour and function of your smile along with preserving the food biting mechanism. If you have a worn, cracked or broken tooth, a dental crown is the best option for you. A crown may be required if you have:
A fractured or broken tooth
Excessive tooth decay
A tooth with a large filling
A tooth treated with a root canal
Desire to improve your smile
Who Needs A Dental Bridge?
During your visit to our clinic, our staff will perform a comprehensive oral Dental bridges are the ideal option to bridge the gap caused due to missing teeth and plays a crucial role in stabilizing the jaw. A bridge is generally made of two or more crowns that look completely natural and fills the gap. They contain replacement teeth are anchored into place by healthy teeth on either side of the bridge.
Since bridges are permanent and cannot be removed, they must be done with care and precision. A bridge can ideally:
Restore your natural smile
Restore your ability to chew and speak
Maintain the shape of your face
Prevent remaining teeth from moving
Schedule An Appointment With Our Dentists
At Afflux Dentistry, we customize our procedures to ensure a perfect fit dental crown and bridge that stays at a place permanently. We are your go-to choice for restorative dental procedures in Ontario. Visit us today to get rid of missing teeth and gaps. Our staff will be more than happy to assist you.
Book An Appointment With Our Dentists Now!