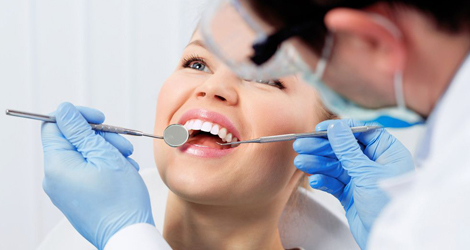 Do you want to schedule a dental checkup for your family? Are you looking to get your teeth cleaned by a dentist? If yes, Afflux Dentistry is here for you. We are a locally owned dental clinic in Mississauga, Ontario offering a complete range of general dentistry services for patients of all ages. Right from routine dental checkups to teeth cleaning and whitening, our dentists are concerned about your oral health and guide you on about how to achieve it.
What To Expect At Your First Visit?
At afflux dentistry, we conduct regular dental checkups to detect underlying gum and teeth problems at an early stage. Our foremost concern is to identify and address all your oral concern before they turn into complex problems.
During your visit to our clinic, our staff will perform a comprehensive oral examination of your mouth. This exam not only involves a routine check for tooth decay but also includes screening for periodontal gum disease, oral cancer, tooth grinding, toothbrush abrasion, bridges, fillings, and many more. Once we are able to diagnose the frequency of dental problem you are suffering from, we'll start with the treatment plan.
Schedule An Appointment With Us!
Our family dentist at Afflux Dentistry is your go-to choice for safe and reliable dental cleanings in Ontario. Visit us today to get a bright smile and healthy teeth. If you would like to learn more about our services, contact us right away. Our staff will be more than happy to assist you.
Book An Appointment With Our Dentists Now!